The UAE is one of the friendliest places in the sphere for expats and migrants. In a survey, 87% of the Emirati respondents said they felt the location is excellent for residing with family. This percentage is well above the worldwide average.
The United Arab Emirates ranks on number sixth for positive migration attitudes, with Canada leading the list with 90% positive remarks. Emirates isn't a stranger to expats; in fact, the country hosts more international workers than Emiratis.
Around 88.52% of the UAE's population comprises expats; the nation proudly vaunts its diversity and inclusiveness. It takes full credit for multiculturalism and warmness that helps migrants settle with ease.
This blog sheds light on visa success stats and the various other ins and outs of the UAE migration process.
Emiratis and Expats in Numbers
The UAE endures inflating its contribution to the high-quality standard of living, accommodation, schooling, and healthcare facilities for its citizens and expatriates. Along with the exemption of VATs, its citizens live more than just a peaceful life. The government's focus on enabling contentment among UAE populaces has been core to its policy of strengthening its position in the Middle East and worldwide.
Stats suggest that despite relocation and migration becoming highly polarized issues, UAE remains a top priority for migrants. The UAE government's growth and development strategies have led to an overall upsurge in the country's appeal to expats.
Here's a brief breakdown of the UAE's population and migrants' contribution, estimated as of 2020:
Population: 9,992,083
Population growth rate: 1.49%
Birth rate: 9.5 births/1,000 population
Death rate: 2 deaths/1,000 population
Net migration rate: 7.6 migrant(s)/1,000 population
Ethnic groups: South Asians top the list by securing 60% of the total ethnic population, followed by Emiratis, Egyptians, Americans, British, etc.
Latest Finding: The UN projected the UAE's total populace at 9,771,000 as of 2019, with expats making up a staggering 87.9% of the total.
Eligibility for the UAE Residency Visa
Passport, Emirates ID, medical documents, degree and diploma papers, schooling certificates, and personal credentials are some of the basic necessities you need to apply for a UAE visa.
Another important factor that contributes to your eligibility is your income. According to the the rules, a male earning a salary of 4000 AED or above, and a female earning a 10,000 AED or above can sponsor their spouse, children, parents, or relatives to the UAE. Additionally, over 18 years of age individuals need to pass a medical fitness test taken at a government-approved health center in the UAE. They will be verified for HIV and Tuberculosis.
The government also requires an Ejari occupancy agreement of your residential contract on a property in your name.
Types of UAE Family Visas
There are three types of family visas in Dubai.
One year validity – Requires annual renewal.
Two years validity – based on the benefactor's two years employment agreement
Three years validity – based on the benefactor's three years employment agreement
The Validity of Family Visa in the UAE
Besides the conventional 1, 2, and 3 year validity permits, according to recent variations, UAE visa can be dispensed for 5 and 10 years, subject to particular circumstances. Read about long-standing residence visas and 5-year retirement visa in the UAE.
Who Can Live in the UAE?
Migrants and expats can live as citizens in the UAE if they are:
Hired by a company operating the UAE
Employed in the Emirati government sector entity that'll sponsor the candidate's visa
Investing in the UAE under a registered business name or partnership
Buying a property in the UAE
Sponsored by a guarantor such as a relative, offspring, spouse, or a parent
Students sponsored by an academic institute in the UAE
Benefits of Owning a UAE Residency Visa
Whether you're the head of an expat family, an employee, student, or an investor in the UAE, owning a residency visa can help you in several ways. Some of which can allow you to:
Avail banking services.
Avail various financial facilities such as insurance and car loans
Apply for a driving license
Access public and private healthcare insurance providers
Work, invest and get your children admitted to private or public schools.
Travel without a visa to specific destinations
Importance of Documents and Certificates Attestation for UAE Family Visa Applicants?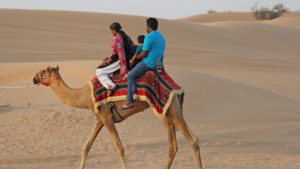 Individuals applying for any visa group such as service visa, commercial, visit, or family visa, etc., should get in touch with certificate attestation services. The local and the UAE government will not proceed with a UAE visa application if the candidate fails to provide duly attested official forms mentioned below:
UAE Visa Application Form (online or through a listed typing office)
Passport duplicates of the family being sponsored
Passport-size images of the family being sponsored
Medical approval certificate(s)
Copy of the sponsor's service contract or business contract
Evidence of the monthly salary the benefactor nets
The legalized marital certificate
Proof of housing, such as the registered tenancy agreement
Up-to-date utility bills
What Does the Attestation Process Involve?
The attestation process varies from country to country. In some countries, the procedure can be completed in a couple of days, while others can take 3-5 weeks.
All legal certificates must be attested by relevant government authorities and the UAE Embassy/Consulate in the issuing country before it is submitted for the final stage of certified at the MOFA attestation services in UAE.
The UAE MOFA oversees the attestation of all documents submitted by expatriate visa applications. Once it gives its stamp of approval, expatriates can apply for a family visa to bring their families to the UAE.
How Do I Get My Documents Attested?
You can choose to get your legal documents attested yourself or hire professional attestation services to do it for you.
Deciding to go through document attestation yourself can be quite a hassle. You'll have to deal with multiple regime institutions that have different working hours and service fees.
You'll have to submit the documents to each authority physically or by mail, which itself is a daunting process. Official certifications are sensitive papers, so you must handover them using protected courier services. You could end up losing the most important documents of your life by trusting the wrong messenger service or mislabeling your packet. Therefore, it's highly recommended to choose an online attestation services provider.
About the Author
The author of this post is a long-time, experienced resident of the UAE and a contributor for Benchmark Attestation Services in Dubai that offers well-timed UK, US, Australian, and Italian degree attestation for UAE visas.
To equivocate visa denial, applicants need to know the Dubai visa process appropriately. Benchmark Attestation has a team of up-to-date experts with years of knowledge and experience. The company offers complete document attestation for expatriates relocating to the UAE.