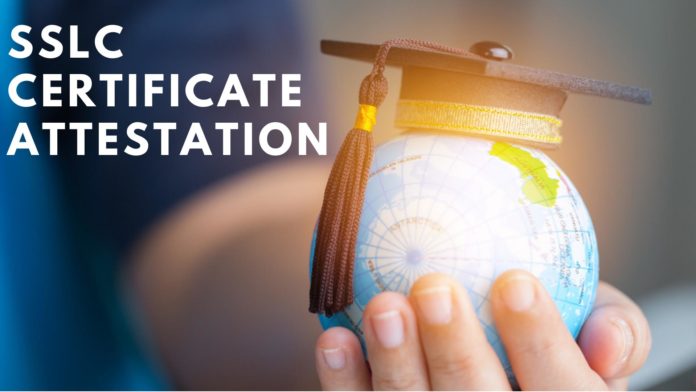 After clearing the Secondary School, students usually enrol in higher education courses that help them procure employment or admission in universities. Dubai, a major business hub is now becoming popular as an education point as the quality of education and employment is higher compared to other countries. Hence a lot of foregin nationals come to UAE for study and work. However, if you are planning to continue your study in UAE or move elsewhere, you need to get your School Leaving Certificate attested as a proof. SSLC Certificate attestation in UAE is necessary if you are appearing for an admission process to colleges/universities or for a job interview.
SSLC and Attestation
Once you have completed secondary school or the 10th grade successfully with a reasonable score, you will get the certificate, which is called Secondary School Leaving Certificate. This certificate declares your score for the subjects and guarantees that you are eligible to pursue further education or a suitable job. Only based on your secondary school score that you get admission to a course of your choice. Attestation is mandatory to help your documents be declared genuine and suitable for any legal purposes in UAE or anywhere else. Certificate attestation is the process by which the Government or Government-authorized agencies verify your documents and stamp them, stating that they are authentic and can be used for any purposes. Attested SSLC is a valid proof which holds certain other details of you. Anyways the whole process of attestation is time-consuming and strenuous, and hence requires much care and attention. This is why it is always recommended to hire a professional attestation agency to get your educational certificate attestation in UAE simple and time-saving.
Importance of Attesting School Leaving Certificate
Since a School Leaving Certificate is awarded when you successfully clear the secondary school, it is one of the most important certificates required for higher education purposes and several other reasons. Whether you are planning to join a senior secondary school or a job after your secondary school, the SSLC certificate is key to confirm your educational qualifications, score in the courses, basic personal details such as name, address, etc and more. Since SSLC is considered as the basic qualification for a lot of jobs in UAE, it helps you witness your education through attestation. In other words, whether you stay in Dubai or plan to move to another nation for study, job or other reasons, you need to get your SSLC attested so that it will be considered verified and can be used in the future.
How Can You Get Your Certificate Attested?
As the attestation processes involve a series of government verification and review, it can take a long period of time and can be complicated. Time-consuming attestation process can delay your admission or employability chances and you have to spend a lot of time in government offices to get your papers ready and meet all the requirements. You can either choose to get it done by yourself or can hire an attestation agency to make the process easier. Hiring an attestation service provider not only saves your time but also eases the whole process at the same time providing your updates about the status of the attestation process.
Given below is the order you need to follow for getting the certificate attested:
Notary Department: The first authority you need to approach for SSLC attestation is Notary. Once your certificate is stamped by the local Notary, you need to move on to the Human Resource Department (HRD) Ministry.
As it is an educational document, the HRD Ministry of Dubai Government should attest your certificate after the Notary attestation. If your plan is to stay in Dubai, this is the final step involved in attestation.
In case you are planning to leave Dubai, you need to get your SSLC and other certificates attested by the Ministry of Foreign Affairs (MOFA), which handles the foreign/external affairs of the country.
Embassy attestation is the last step in case of certificate attestation. You need to get your document attested by the embassy of the nation that you are planning to move to.
SSLC certificate attestation is needed in various common fields and creates the migrants to get their chances. Since your School Leaving Certificate is an important document that needs to attest in order to be considered authentic and acceptable for further use, you must rightly understand the purpose of doing so and the procedures involved. Attestation is authentication which offers greater genuinity to your certificate. By lawful attestation method, the authority acknowledges your entrance to their nation.
If you want to get your school leaving certificate attested in a very short period of time, the best preferred method is to hire an experienced attestation service agency who can provide you the best services in the least time.