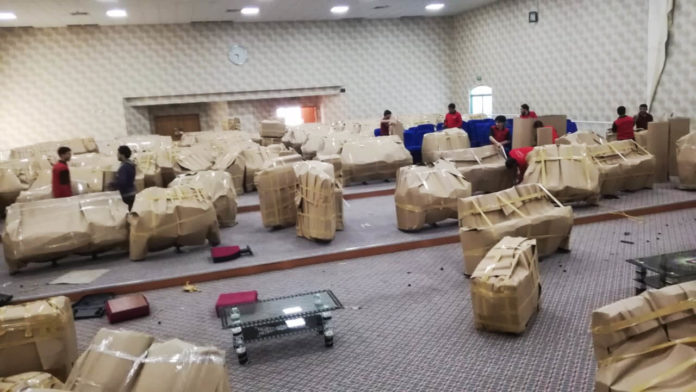 Today I will let you know the details about movers and packers. If you are living in Dubai then this post is specially written for you. I hope this will help you with hiring movers and packers.
Movers and packers in Dubai offer all kinds of commercial and residential relocation services. Moving includes furniture and appliances dismantling, packing, and fixing.
First of all, let me explain the services what moving companies provide during moving your house or office.
House Survey:
A site survey is the most important for getting the accurate estimated price according to the number of your items and the quality of service do you need.
This survey performs by a professional supervisor who will visit the house and after inspection, he will let you know the price details.
He will give you the price details directly in your place and then if the offer is friendly with your budget the company will send you a written quotation which contains all service terms and conditions.
After getting a quotation file from the company you are able to fix the moving time and date when you need. The team will arrive at a fixed time with you and they will start their service.
Furniture and home appliances dismantling:
The professional movers and packers team will start to dismantle all items which are not possible to shift without proper dismantling. They will dismantle the bedroom and living room furniture, kitchen items like a refrigerator, cooking range, washing machine, etc.
Make sure that the dismantling will be done via professional and well-trained furniture carpenters who are able to fix it again as it was.
It's easier for both the client and the company workers to dismantle all of the big items in your house and office. Which is easy to pack and load to vehicles. Also, it prevents all kinds of damages to the items.
Furniture and other household items packing:
Packing is very important to keep the items safe while moving. It's not possible to shift any kind of items safely without proper packing. Furniture packing, home appliances packing, and other household items packing is an essential step.
We guarantee our packing that there will be no damage to your expensive items. The company team will fully cooperate in any kind of situation. They will be responsible for any kind of damage or scratch to your items.
We use such kinds of packing materials to protect the furniture and kitchen items. Materials like bubble roll, carton boxes, carton roll, paper roll, and stretch film roll, etc.
Moving and fixing:
After properly dismantling and packing of the furniture and home appliances your items will be loaded into trucks and then shift to the new location.
Movers Emirates has 4 ton boxed covered trucks which are very safe for all kinds of moving works.
The expert furniture carpenters team will do the fixing of furniture and home appliances. They will fix the furniture where you want in your house. They can even repair any kind of damaged place in your items.
You can contact the professional movers in Abu Dhabi and Dubai anytime they are available 24/7.
How movers and packers charge?
Movers and packers charge based on the number of items and the quality of service. They can give you options like if you want to pay per trip and if you want movers to give you the final quotation for all of your items.
I would like to recommend you go ahead with the final quote. Because it's easy and affordable sometimes items left in the trips can't fit in the truck. It will cost you extra charges then. But if you get the final quotation then don't worry how many of your items are in quantity? They are responsible to shift all of your house and office items with 100% safety.
How much are movers in Dubai?
Movers in Dubai charges are based on the distance and quantity of the furniture and home appliances. You can get exact price details on a phone call to a moving company. They will send a supervisor to inspect the items or they will also ask you to send photos and videos of the items.
Sending a location is good for a supervisor to come to your place and inspect everything properly.
Do movers and packers pack clothes?
Movers and packers will pack all of your household stuff like furniture, appliances, kitchen items, decor items, shoes, and clothes, etc.
They provide full unpacking service as well if the client requested. At the end of the work moving team will collect all of the garbage from your house like used clear tapes, stretch rolls, boxes, etc.