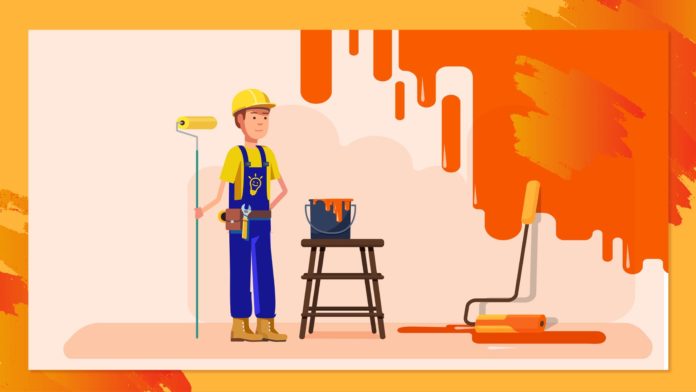 Have you ever gotten bored with the way your house looks, or wondered how you can quickly brighten it up? We believe painting can be the real life saver in these situations. While adding a pop of color to your living space, paints also help in creating a warm or cool ambience based on what you prefer, and even helps complement your furniture to complete the look. Giving your walls an up do doesn't necessarily mean covering yourself in paint. There are better options out there, like painting services. All you need is to find the right place to book it.
There are tons of reasons why we prefer using house painting services in Dubai compared to choosing the DIY route. First of all it's way more expensive. If you're buying your own, you'll have to buy really big quantities of paints, and brushes, and all the accessories that go along with it which would be much cheaper if you simply hire a painting company, as they would be bringing all the equipment including sheets and tapes to protect your floors and ceilings.
Secondly, you get so much more professionalism and precision when you book a painter in Dubai compared to getting it done yourself. There'll be no misses, no patchy wall painting and the final product will look simply gorgeous. It will take off a lot of stress from your minds too!
Thirdly, there is no wastage. Imagine getting all those paints yourself for your house painting, and then being left with half of it after you're done. You'll have to discard the paint, because you might not really find anyone else wanting the same shade that you've got, and those brushes will simply sit in one of the storage closets for years and years. However, that's not the case with professional painting services. They'll know the right amount of paint you need, and since it is their everyday job, their tools will never go to waste.
At JOBOY UAE, we know that painting a wall is a big thing for you as it will change the way your home looks for years to come. So we make sure to only partner with the best painting services in Dubai that are highly experienced in their work, hire trustworthy and dependable painters and offer their services at economical prices.
JOBOY UAE has got everything worked out, whether you want your entire apartment or villa painted, or are looking for a custom painting job for specific areas in your home. What's more, we also send experts that evaluate your home and consult on the best painting services that'll suit your house and budget.
How to book with JOBOY UAE
It's really simple to book house painting services with JOBOY UAE. No matter where you stay, we offer convenient painting services in Dubai, Abu Dhabi, Sharjah & other Emirates. Simply log on to our website, or download the JOBOY UAE mobile app. Select the service you are looking for, enter your address details, choose a date and time, and pick from the different home painting services available. You can add any additional instructions if you like, and we'll try our best to incorporate that during our service. Then all you need to do is make the payment, whether you choose to pay through online banking or cash on delivery, and our painting company will be at your location on your preferred date and time.