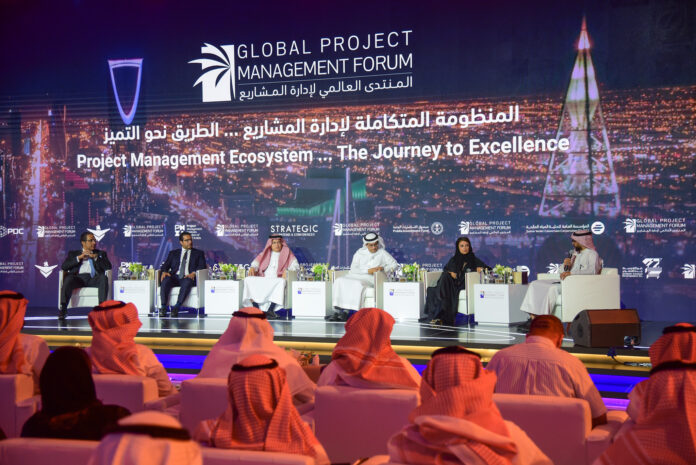 Over 13,000 visitors from 109 countries, 78 industry speakers and experts, 35 exhibitors, and 20 gov't and private partner institutions participated in the Forum
Riyadh, Saudi Arabia – (ARAB NEWSWIRE) – The second edition of the Global Project Management Forum (GPMF 2023) ended on a high note yesterday, after two days of valuable knowledge sharing, dynamic exhibitions, and productive networking activities participated in by the most influential community of project managers and diverse stakeholders from the region and around the world.
Held in Riyadh, Saudi Arabia, GPMF 2023 attracted a huge attendance, with 13,549 visitors, 20 public and private sponsors, 35 exhibitors, and 78 key speakers and experts from 109 different countries, including the United States, Sudan, Jordan, Bahrain, Egypt, and South Korea, which was the Country of Honor in this year's edition.
The two days event witnessed keynote speeches from leading figures in the industry, the awarding of the sponsors and partners, and the signing of 12 Memoranda of Understanding, in addition to the insightful sessions and panel discussions, all of which numbered 47.
The second day hosted several dialogue and technical sessions on various project management topics such as "Strategy, Execution, and Managing Change on Mega-Projects," "How to Assess VOs Impact and Select the Best Course of Action," and "Future of Project Management with AI to do more with less," among many others. Two panels were also presented on "Key Success Factors for PPP in Health Sector" and "Leading and Managing Innovation Projects." Certified PMP Mentorship Program volunteers were also awarded in recognition of their commitment to share their skills and experience with future project management professionals.
Another exciting part of the GPMF 2023 was the Book Signing Ceremony where project management subject matter experts signed copies of their publications. Three books were featured, namely "Project Management Next Generation: The Pillars for Organizational Excellence," "The Vision Code: How to Create and Execute a Compelling Vision for your Business," and "Project, Programme, and Portfolio Governance."
A day prior to the event, masterclasses were held as well to help participants gain insights into the latest tools and methodologies, and learn how to apply them to their projects for improved outcomes.
"We are honored and privileged to have organized the second edition of the Global Project Management Forum. As with the first edition, we believe that the event has been successful in fostering meaningful discussions, beneficial collaborations, and innovative ideas among the attendees, which will help them to further grow in project management," said Engineer Badr M. Burshaid, President of PMI-KSA and GPMF.
"As an organization committed to promoting excellence in project management, we are thrilled to have contributed to the development of the industry in the Kingdom and beyond. We extend our heartfelt gratitude to all the attendees, speakers, sponsors, and exhibitors for their invaluable support, which has made this year's Forum a remarkable achievement. We hope to see you all again in our next year's edition," he added.
-Ends-
For inquiries please contact:
Shereen al Musallami
[email protected]
00971526998032

This press release is issued through Arab Newswire (www.arabnewswire.com) – a newswire service for Arab World, Middle East and North Africa (MENA), and it is distributed by EmailWire™ (www.emailwire.com) – the global newswire service that provides Press release distribution with guaranteed results™